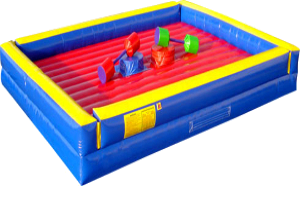 Gladiator Joust Game
Ultimate Gladiators!
The ultimate one on one challenge. Go head to head against your friends, co-workers, kids, and guest and see who survives the Joust! Strap your padded helmet on, grab your padded jousting pole, jump on your pedestal and battle to see who can be knocked off first. Reserve this as the main attraction or as an add-on for your next event in Davenport, Bettendorf, Moline, East Moline, Rock Island and more.
Price: $215

Dimensions: 20ft x 25ft